Built On Trust
An evolving, emerging & enterprising group with its roots in the financial services sector and today expanding into newer horizons with great passion.
The vision of the group is to be leaders in businesses driven by customer satisfaction, commitment to excellence and passion for continued value creation for all stakeholders. This vision has helped us grow and build the trust of our customers and associates which is at the cornerstone of everything we do. Trust is also at the heart of our success and the driver for passion for our success.
NJ Group is a leading player in the Indian financial services industry known for its strong distribution capabilities. The journey of NJ began in 1994 with the establishment of NJ India Invest Private Limited, the flagship company, to cater to investor needs in the financial services industry. Today, the NJ Wealth Distributor Network, earlier known as the NJ Fundz Network, started in 2003 is among the largest networks of financial products distributor in India.
Over the years, NJ Group has diversified into other businesses and today has the presence in businesses ranging from financial products distributor network, asset management, real estate, insurance broking, training & development, technology & distribution of Organic food products, an Interior Designer, innovative loan products, offshore funds across the globe and charitable trust. Our rich experience in financial services, combined with executional capabilities and strong process & system orientation, has enabled us to shape a rising growth trajectory in our businesses.
NJ Group is based out of Surat in Gujarat (India) and has presence in 95+ locations in India and has over 1475+ employees.
Group Philosophy
Work Philosophy:
Doing the right thing is a virtue most desirable. The difference between success and failure is often, not dictated by knowledge or expertise, but by its actual application and perseverance. When it comes to value creation for customers, it is something that we strongly strive for in all our endeavours. We are committed to provide our customers with continuous, long-term improvements and value-additions to meet their expectations.
Driven by passion, we continue to evolve and make the right product accessions and service innovations in our offerings. Over the years, our passion has seen us grow from strength to strength and expand rapidly, setting new benchmarks in the process. But to us, what really matters the most is winning the trust of our customers.
Management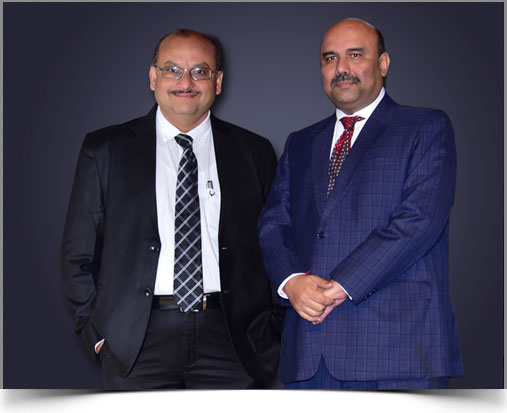 Mr. Neeraj Choksi & Mr. Jignesh Desai (R) are two first generation entrepreneurs who began the journey of NJ in 1994. The promoters of the NJ Group were friends since their college years and the bond between Mr. Neeraj & Mr. Jignesh has been instrumental in the success of NJ. Discussing upon important things before taking any decision, is a habit that they have followed ever since they shared their hostel room in Vidhyanagar, where Mr. Neeraj was studying his management courses and Mr. Jignesh was into engineering. They both have a complementary style of functioning that augurs perfectly well for the business.
Driven by their passion for financial well-being of customers & the mission for transforming lives, the promoters have successfully put NJ on the forefront of innovation & growth. With a humble beginning from home, the promoters have successfully shaped the groups forays into many diversified businesses. Both believe that Trust has played a very important role in NJs journey, and in every step that they have taken. The words of the promoters aptly describes this journey of NJ -Built on Trust.
Corporate Governance
NJ realises the importance of corporate governance and seeks to implement the best practices for the same. We strongly believe that we have an obligation or duty as corporate entities to all our stakeholders; from employees, customers and vendors to business partners, authorities, and society at large. We aim to strike the right balance between minimising business risks while attempting to maximise business growth.
Corporate Governance at NJ is based on the following main principles:
Timely and strict compliance to all established rules, regulations and guidelines
Building sound system of risk management and internal control.
Timely and balanced disclosure and communication of all material information to all stakeholders.
Transparency and accountability in all practices
Fair and equitable treatment of all its stakeholders including employees, associates, customers & community
Consumer Grievances:
The existing customers may approach NJ Customer Care Help Desk for any queries / clarifications or issues that they may face in NJ. Also you may email us for any queries or grievances.
Help-desk : 1800 102 0155 (Toll-Free) | Email : grievance@njgroup.in
Copyright © NJ India Invest Private Limited All Rights Reserved.
Reach out
Find us at the office
Mcevilly- Liposky street no. 40, 55778 Tórshavn, Faroe Islands
Give us a ring
Maliek Elvis
+23 188 845 957
Mon - Fri, 7:00-15:00